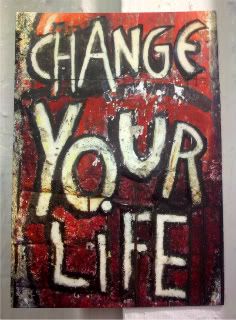 Magnet #1318 - Change Your Life
So, I took a break for a month to figure out whether or not I was quitting on
joy magnetism
. The answer is, I don't know.
I bought this magnet from a dude outside of the Guggenheim (during a trip to the gift shop, not the museum), because it's definitely indicative of the last year for me.
I've been talking about the #
funtimejoy
initiative for a while, which is to make sure that I take advantage of every fun thing that comes my way, in order to make up for the lost
funtime
years of my late 20s and early 30s.
The trouble is, between architecture class,
ziplining
, the ballet, haunted houses, accidentally stalking Samuel L. Jackson, trips upstate, shopping trips, and just general carousing, being #
funtimejoy
is totally wearing me out! And all of the above? Was just in October. Oiy.
Anyway, I'm debating on whether or not to start
tumblring
joy magnetism
, but for now, blogger will do. But here's what's odd...I've been blogging since February 22, 2008, but this October, even as I haven't posted a single magnet an entire month? Site traffic (which has never really been that high), has actually doubled.
What up with that?