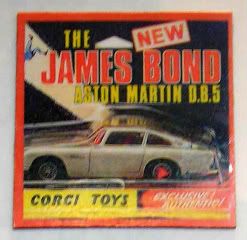 Magnet #494 - James Bond's Aston Martin DB5


Another one of my Union Square magnets - this one I had in mind for if I ever finally watched the latest Bond flick, or for one of my favorite shows
Top Gear
.
Yeah, let's go with
Top Gear
, only the best show ever. If you haven't seen it - go find BBC-A, and track it down. Better still, find it on
YouTube
.
The beauty of this show is that everyone can watch it. Now, hang on, bear with me. Really! Everyone really can.
I'm totally not a
gearhead
, but find myself fascinated with the car footage. It's amazing. When you watch, you can see why guys love cars, the sleek lines, the sheen, the revving of the engines. They're just gorgeous machines.
But there's also the coolness of the guests - seriously, where else would you find Helen
Mirren
saying that she sets her alarm early so she and her hub can have some alone time. The first I ever saw of the show were the three hysterically funny
Doctor Who
interviews (Christopher
Eccleston
, Billie Piper and of course, David
Tennant
), and I was instantly drawn to the lap time competition.
I love watching folks race around the course, cursing all the way through it, and then finding out where they landed on the board. (I have to admit, it makes me all giggly, too, when they slap the magnetic strip across the board.
Hah
. I also admit that I'd totally be all over racing that damn course, too.)
You also have to love all three presenters - Jeremy
Clarkson
, James May and (no, he doesn't really look like David
Tennant
), Richard Hammond. Whether or not they're
RL
chums, they certain get on well on camera, and they make you want to hang out with them.
Or rather, they make you want to compete with them, in one of their wacky races. Remember the
Wacky Races
cartoons? Just like that. Whether it's across the deserts of Africa, the traffic of London, the country of Vietnam or the
superscary
backwoods of the US, you just want to go along for the ride.
And, luckily, we get to.
* Random almost-related-to-my-magnet quote from Jeremy:
I'm sorry, but having an Aston Martin DB9 on the drive and not driving it is a bit like having

Keira

Knightley

in your bed and sleeping on the couch.