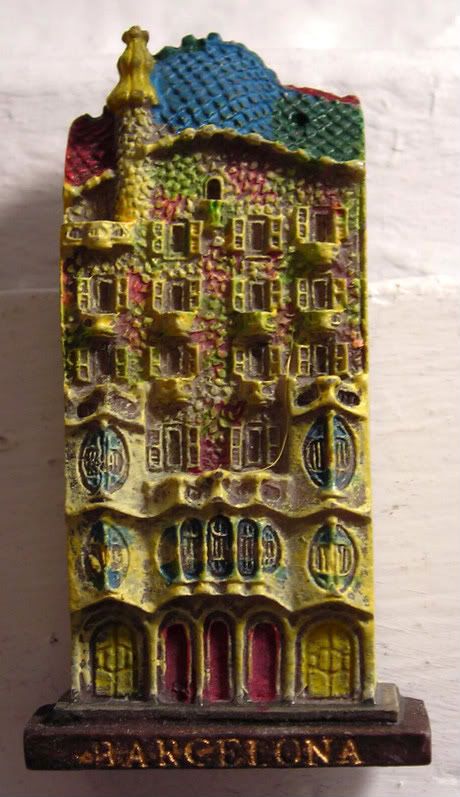 Magnet #198 -

Gaudi's

Casa

Batlló
So my sister gave me one of those wonderfully designed and packaged books that I love so much - you know the books. The ones that you rarely buy for yourselves - very little text, pretty pictures, well designed and on good
paperstock
, so pretty, you're afraid to read it?
She got me
1001 Buildings You Must See Before You Die,
and I love it. It's fantastic. I love looking through it, seeing all the
supercool
buildings from around the world. I've been going through it and trying to figure out how many of them I've been to, or seen face-to-face. I refuse to count it up until I get to the end.
I sort of have a leg up, what with living here in NYC, where there are at least a dozen of the buildings. Oh, and also with me having gone to a few countries in Europe. But, if anything, this book has taught me that there's a world of amazing architecture out there. Literally.
This magnet is one of those buildings. It's
Gaudi's
Casa
Batlló
, in Barcelona, brought back by the same sister above. Locally, they call it the House of Bones - it does look rather skeletal and bony. But, if you look, there aren't very many straight lines -
it flows and ebbs and it's quite amazing
. From all the pictures, the inside is just as curvy-curvy. And it has all this neat
tilework
on the facade. I'm sure it was amazing to see in person. I'm a little sad that there are trees blocking the building from a good view.
It's definitely been added to my list of buildings to see one day. Right now, number one on that list is the
Automium
, in Brussels. Which was apparently built for
Expo 58
, a World's Fair type of exhibition.
C'mon
. How could you
not
want to
walk inside a giant silver ball
? Hello, you could go in and pretend you're Jodie Foster in
Contact
!
*From an essay by Juan

Bassegoda

Noneli
, lest you think I'm that poetic