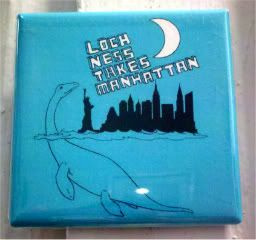 Magnet #1322 - Loch Ness Takes Manhattan
Love this magnet my sister got me. It reminds of that latest
Mashable article on the special Google Easter eggs
- one of which is when you set your Google home page to the beach theme and at 3:14am Nessie comes out to play.
Mind you, I haven't done it, but it does crack me up.
As does making Google do the barrel roll.
Or going looking for Chuck Norris.
Seriously. Go read that article I linked above.
So interesting how Google has become such a presence in our lives, that we totally take it for granted. You could extend that to all of the Internet, plus mobile technology. Still...for all the wonderful things it's brought us in the last 20 years, I have to say I am still very, very, very glad that I went to college without the presence of either Facebook , mobile communications or any form of instant communications.
My UNC experience would have been so much different had they been around. And I'm pretty sure it wouldn't have been for the better.