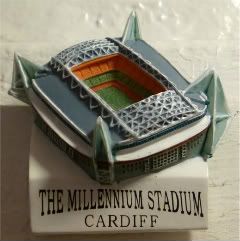 Magnet #1133 - Millennium Stadium, Cardiff
What?
Ok, ok, wrong sport, wrong country.
Still, a world-class stadium.
Built in 1999, the Millennium Stadium seats 74,000 and was the first fully-retractable roof in the UK. They've hosted everything from Rugby World Cup finals to large-scale musical concerts to motorcup events. And they're going to be the football venue for the London 2012 Olympics.
Yet, somehow, I missed seeing this giant stadium on my Cardiff daytrip a couple of years ago. I know! It's one of the most iconic buildings in Wales, and somehow, I missed seeing it. Not only that, but I just looked at an aerial shot and it's seriously right across the street from the train station I came in through. I remember seeing the supercool spires poking up through the skies, and a lot of light around it, but somehow, somehow, I missed the building itself. It's why I bought the magnet, really, because I knew I'd missed it - plus, it's just a really cool magnet to have, all 3-D (2-D?) perspectivey and whatnot.
It's ok, though, because we have Cardiff back on the dockett for the June London trip - of course - we can't not do another Doctor Who/Torchwood walkabout, so I'll get a chance to earn this magnet for real. I was hoping we could see an actual Rugby match with some actual rugby cuteboys, but it looks like the timing won't work out. I mean, shoot, we're even 2 days late for Take That.
What?