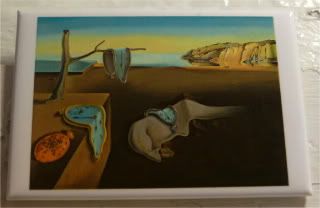 Magnet #1121 - Salvador Dali's Persistence of Time
I was hoping to get out to the newly renovated
Salvador Dali Museum
, but it's just too far away to actually get away.
I've heard the new building is gorgeous, so eventually, I'll have to come back for it. Even when I already have this Dali magnet of
Persistence of Time
.
I do love Dali's concepts of time melting away - it's fitting, since we got so busy this week that I actually skipped a magnet two days ago and am now making up for it today. It also works because man, Tampa's hot, sometimes I feel like it's not just time melting, it's me, too!
I can't believe my week here in Tampa is almost over.
Well, time flies...