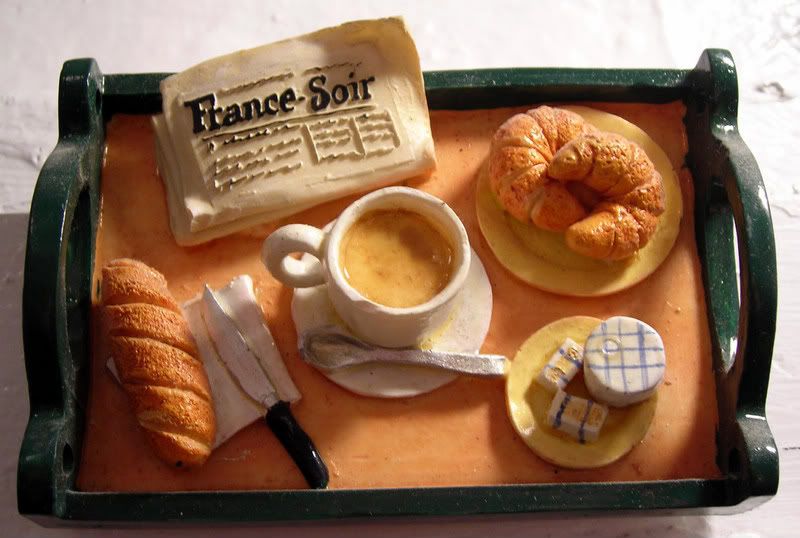 Magnet #195 - France-Soir, et un cafe et pain


Country #6 - France
So, again with the musical ambassador kids running around big European cities, unescorted...and for some reason, looking for the Crazy Horse because some of the guys wanted to go? Ummm, I just looked it up, and now I'm sorta wishing I were posting from not my work computer. Oops.
Mon dieu
, the innocence.
I remember going to the newly Pei'd Louvre, seeing the Arc de Triomphe and Champs Elysses, being underwhelmed by the rather short Eiffel Tower (but soooo singing
View to a Kill
), and being outside Napoleon's tomb. I also remember being a very silly high schooler, having a fight with the boy, and thinking it tres tragic et romantique, having him follow along behind us on the streets of Paris, until I finally accepted the silly rose he'd bought to make up with.
On our way to Le Havre to take a Channel ferry to Portsmouth, with the end of our trip
finally
in sight, we passed through Rouen for a few hours. Rouen is where Joan of Arc was burned at the stake, the Cathedral is where Richard the Lionheart's heart is entombed, and the place Monet came to paint a few of his famous works.
And what did we do instead? Found a spare piece of a4, drew a sign of a famous logo with a yellow highlighter and black pen, and asked the locals...
"Ou est Le McDonald's?"