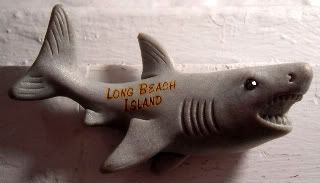 Magnet #484 - Long Beach Island
Shhhhhhaaaaaarrrrrrk!!!!!
Hahaaaha - actually, a friend of mine gave this one to me - I've never actually been to Long Beach Island. Truth be told, I thought the magnet was actually from Long Island, until I took this picture, and had to look up where Long Beach Island was. (
It's in Jersey
.)
Have ya'll seen those super, super, super, silly, silly, silly
Shark Attack
movies? Where something's off about a shark (or two) off the coast of [insert country here], and [insert hot guy scientist here] has to find out what's going on and eliminate the threat - parts one, two and three. Three even has a Megalodon! Hahaa.
You might ask why I've ever bothered to watch. (You might actually ask why anyone bothered to make not one sequel, but two.) I never watched
Shark Attack
with Casper van Dien, even though he was hot. But I own
Shark Attack 2
, because it has
Thorsten Kaye
, the superduper hot guy from
All My Children
. And of course, I had to Netflix the third,
Shark Attack 3: Megalodon
, has superhot
John Barrowman
, who all but admitted that he did the movie for the money.
Hahahaa, it's truly amazing what I'll watch - and own - all for the love of a hot guy.
This magnet's kinda scary, though - lookatit's teeth! Grrrrr. Hmmm, I wonder if sharks actually growl.