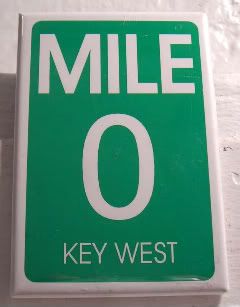 Magnet #750 - Mile 0, Key West
WHEW. This is what I feel like I've hit. Mile ZERO.
I know, I know, the last time I blogged was March 13, the day before we went into overdrive for Transitions Championship week. I mean, I was able to blog from a hotel lobby in the middle of Florence, Italy, more easily than I could have done from Tampa in the last couple of weeks!
No worries, I'll quickly catch up (to the real magnet tally), I just needed to catch my breath.
The funny part is how everyone left behind thinks that Tampa was some sort of a picnic, that we weren't really doing anything but watching some golf, and throwing up a couple of Transitions swirls here and there.
Actually, it's not really all that funny. Even with a dozen people on site (a dozen,
FFS
), we still had one chick log in about 97 hours on one week's
timesheet
. And she's one we took it easy on.
So yeah, I get pretty
het
up when I hear folks wondering out loud just what we were doing down there, when I know for a fact that Tampa was not just a walk in the sun.
Anyway, moving on...I think my sister brought back this magnet for me, because no, I haven't been to Key West. In fact, all I know about it, is that there are lots of cats at Hemingway's house there, and that Joey Potter stole a brick from the house for Dawson. As a symbol of their friendship. Or some such. (Honestly, I dunno why she even bothered to get him a darn thing, when she should have just sailed away on the
True Love
with Pacey, and never came home or given Dawson a second thought.)
What? I've just been away, is all.
joy magnetism
hasn't magically turned into a different blog in my absence. Of
course
, I'm yammering away about work. And
Dawson's Creek
.
You're just lucky I didn't mention anything about David
Tennant
and
Doctor Who
.
Yet.