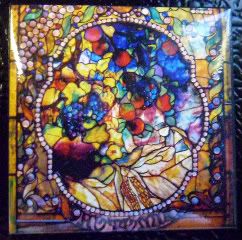 Magnet #864 - Tiffany's Autumn
Autumn,* third in my
Four Seasons
VMFA
Tiffany
magnetset
, from the
Tiffany exhibition
.
I won't lie - these four magnets are so small that it's hard to make out the content of the stained-glass design. But when you put the four of them together, just as magnets, it's so, so pretty. Just imagine how majestic
the whole window
must have been.
Fall's one of my favorite times of year, mostly because it's not too cold, not too hot. And also because, more than an actual calendar new year, it always feels like a time of new beginnings. New school years, new people, new hopes. Just new change, I guess.
Oh, and let's not forget, new television, too.
What? I just finished off seasons 3 and 4 of
Friday Night Lights
, after a delayed gratification of not watching either season so I could devote a weekend to it. Now that that's done, I need it and Coach Kyle to hurry on back. Thanks.
*
Morse Museum of American Art
's
Four Seasons

PDF

guide