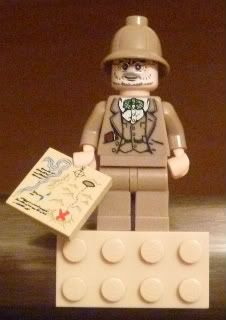 Magnet #887 - Professor Henry Jones
SuperTaj and THE SHADOW and their mom and I went to Legoland this week.
First, it's ridiculous that people actually thought that I - of all people - wouldn't enjoy Legoland. I mean, hello, it's Legoland!!! There's a big part of me that thinks they built Legoland just for me.
I flippin' loved it. I want to know exactly how many items made out of Legos are in the park, and how many Legos it took to make everything. How freakin' awesome is that park?
Honestly, I would have been happy without any of the rides - maybe because we only rode the rides for 36" and over, and under 3YO, and so I don't know what I missed. But, I loved everything they built out of Legos.
What's not to love? A mini-USA? Complete with a Grand Central Station, a Flatiron building, my absolute favorite building in NYC - the Fred F. French building? OML. Their Vegas didn't have a Bellagio or an Elvis, but that's ok. I totally loved their tiny towns!
Plus, their gift shop? The fact that they call it the BIG SHOP? Ohmygoodness. LOVE. Where else would I find Professor Henry Jones? C'mon! I couldn't believe it, either. I can't wait to get home to unpack the rest of the magnet sets I bought.
Because you know I just bought a tiny town of magnets.