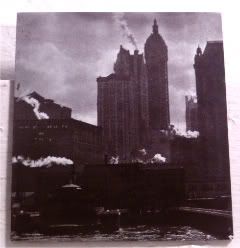 Magnet #963 - Stieglitz's City of Ambition
's New York City images are always a favorite of mine. This one, called
City of Ambition
, taken downtown in 1910 is striking for me - the tufts of smoke, the grittiness of the big city against the seeming calmness of the water. Plus, for me Stieglitz seemed to be the ultimate example of hip, old-school New York.
Someone else who reminds me of old-school New York is my old chairman, the founding father of the company I used to work for. Sit with him for a bit, and he can tell you tales anywhere from World War II to the original Stork Club to Vietnam to September 11
th
.
Today, about 300 people attended a tribute to his late wife of almost 63 years - a woman who was a true force of nature and most beloved by all of us. I'm glad I brought tissues, because while it was a celebration of her life, hearing her friends and family speak about her definitely brought forth a few tears.
Today was also my first event with the company that let me go after more than a dozen years, so I was a little apprehensive. Turns out with 300 people milling around, it's pretty easy to talk to only the people who have a smile, a hug and a handshake for you. There were several of those folks, and it reminded me of how lucky I was to be part of the old guard before the new regime took over. That's the company I want to remember, those are the people I want to remember.
So I learned a lot today. While I knew her as "the boss's wife," we saw a glimpse of the wife, mother, grandmother, friend, and woman. A woman who truly lived her life - for her husband, her family, her community, and most of all, for herself.
Coincidentally, a
newsreport
last night told me to write my own obituary - as a way to learn about what I'd like my life to be about. After this morning celebrating Bette, I definitely have more of a sense of what it should be.
eta:
Also wanted to share a violin piece by Kriesler entitled
Liebesfreund (Love's Joy)
that violinst Christina Khimm played for us today.
Despite the fact that it has a fabulous name, it's just a lovely, happy piece.