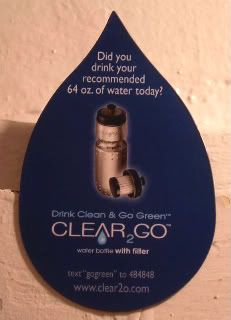 Magnet #421 - Clear2Go
Full disclosure, this post is totally an unabashed push on my part, because my colleagues worked their butts off of this project, and because it's also something I happen to believe in, and because...
Yay
! Someone convinced these folks they needed magnets for their product launch! Awesome.
Even more full disclosure, it wasn't me. I don't even work on it. But, I won't lie, I totally
eeee'd
with glee when the
bossman
brought it over to my desk. And, it's
blue
!
If you haven't heard of Clear2Go
(TM)
, no worries, this is their big launch month. The product itself is actually kinda cool - it's basically a water bottle, with a built-in water filter up at the top. So, you can fill it up anywhere on the go, and have clean water.
Methinks this is what I need to get for my Save the World sister for when she goes on her many treks...she just needs to let go of her icky
Nalgene
bottle.
They're billing it for its convenience (take it anywhere), how it saves money (buying less bottled water), for how many gallons of water it filters (about 100), and that it gets rid of tons of the bad stuff in water that you don't want.
But, what I love, love, love about it is that apparently, when you use it, you're potentially saving about 750 disposable plastic water bottles! That's an
eco
-stat that won't leave my head. It's almost as good as the
eco
-stat I learned from NBC
Universal's
Green is Universal
campaign a year or two ago: you save something like 15 pounds of paper waste a year,
just
by using a mug every day at work, rather than using/buying a paper cup of coffee.
It's the little things that people can do that add up, I'm convinced.
But, these Clear2Go folks, are actually doing a ton of good stuff this weekend and next. If you're in any of these major markets I'm listing below, definitely check 'em out.
In the meantime,
Drink Clean and Go Green
...on behalf of the Earth.
(insert peace, love, and joy symbols here)
Clear2Go Earth Day Events:


Chicago - Grant Park Conservancy on Sunday, April 19 (9:30 a.m. - 12:30 p.m.)

Austin - Shoal Creek Clean Up on Friday April 17 (3:00 p.m. - 8:00 p.m.)

Denver - South Platte River on Saturday, April 18 (8:00 a.m. - 12:00 p.m.)

San Francisco - Golden Gate Park on Saturday April 18 (9:00 a.m. - 1:00 p.m.)

Los Angeles - Santa Monica Pier on Saturday, April 18 (10 a.m. - 12:00 p.m.)

Miami -

Bayfront

Park on Saturday, April 25 (10:00 a.m. - 7:00 p.m.)

D.C. - National Mall on Sunday, April 19 (noon - 6:00 p.m.)

New York - Grand Central Station on Friday, April 24 and Saturday, April 25
(noon - 7:00 p.m. / 11:00 a.m. - 5:00 p.m.)