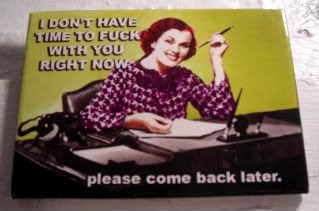 Magnet #411 - No time
Yes, yes. I know. Now I'm going to get it from my mom for my use of profane language on an actual magnet.
Truth be told, I bought this magnet - with glee - in London, from a store called...wait for it...
JOY
. I couldn't wait to get mad enough write up a bitchy
magnetpost
about it!
I was even sure that I was going to use it for my trip down to Tampa. But, then, I didn't want to have too negative of an attitude in times of crisis. Plus, I didn't ever get so mad down there that I needed it.
Well, except for when someone complained about Vivas. Yes. The paper towels. You have no idea. But, if I ever get a magnet for Bounty or Viva, I'm SO doing a

magnetpost

on them.
Moving on.
Annnnd, I just poofed the rest of the original quite vitriolic magnetpost. Because it's a blog. About magnets.