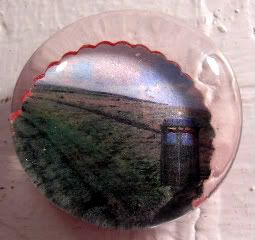 Magnet #680 - The Doctor's TARDIS
For Christmas, I ended up with a supercool gift certificate to
@KristinaMyers
'
Etsy store
- which totally means I'll be adding more to my collection of
Doctor Who
magnets. Yay!
What? Just because David Tennant's gone doesn't mean Ten has to go, too. I'm just sayin'.
I'm just trying to figure out how which images I'll choose for the next batch of magnets. So far, my choices are:
1) Favorite Ten episodes
2) Favorite Ten phrases
3) Favorite Ten scenes
4) All the Ten companions
5) The two recent DW logos
Oh, the endless possibilities. Hahaha. I can't wait. It's gonna be fun.
And, no, I'm totally avoiding a whole Doctor Who/Ten/David Tennant good-bye post.
Maybe if I don't write it, it didn't happen.
Maybe if I delete it from my DVR, it'll be like I've changed history.
Maybe if I don't say good-bye, it'll be like he never left.
Maybe if I ignore it, David'll be the one who shows up in the Spring
, instead of Baby Emo Doctor, Matt Smith.
Maybe.
Sigh. Ok, ok. In the meantime, I guess...Geronimo?
eta:
And, I guess it's fitting that with the arrival of the new Doctor, there's a stork delivery of my friends' baby girl, heretofore nicknamed NJ, despite that fact that she was born in NC, and not New Jersey, as her nickname would suggest. Welcome, little NJ!