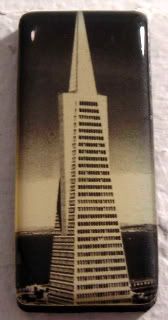 Magnet #705 - Transamerica Pyramid
It's my friend Annette's birthday today. Just shouting it out. :-) I haven't figured out a way to tied her in to the magnet, though.
By the way, this magnet? Totally came in my NY buildings mighty magnet set. And, it actually took me a couple of years to even realize that it was in the wrong set. Heh.
I've been to SFO twice - once when I was like six months old, and once about six years ago. For 12 hours. No lie. I literally got on a plane to deliver something for a new biz pitch.
That morning I flew, that night, I checked into the W with the 800 thread count sheets, had dinner, ran to the office, delivered my stuff, then stayed to help out the chick who gave me that
bullfighter magnet
below, and then didn't get into that bed with those wonderful sheets until 4. And then had to get up an hour after that for an 8am flight. Then? We didn't win the business. Wha?
Anyway, my point is that I've only seen this building twice, so I know next to nothing about it. But here's the nifty cool stuff I found out about it.
It's called the
Transamerica Pyramid
, even though
Transamerica
isn't HQ'd there now, and it's not a real pyramid.
According to this fabulous SFGate article, Transamerica
used to be a holding company that originally owned Bank of America, and then stuff like Universal Artists and Budget rental cars. But in the 60s, no one knew who they were, so they said in a time-honored tradition, dudes, let's build a building!
So they got this big futuristic-architecture focused architect, William Pereira to design it for them. He's the guy who did the burning of Atlanta. I kid you not. (You can find his work listed
here
, but I'm hard-pressed to find a favorite.) They finished the building in 1972, to the usual round of lovers and critics.
Love it or hate it, it's one of the best known buildings in San Francisco, if not
the
best known. You have to hand it to Pereira, that futuristic vision of his seems to hold up well, almost 40 years later. I'm sad that post-September 11th, they've closed the observation deck to the public - apparently, you can hang out in the first floor where they have virtual viewings? Plus, they have a cool website that gives you the
latest sightings of the building
in the media. But you know what I love? I love that they
recently achieved
their LEEDS certification. That's cool.
*Criticism from John Pastier, the
LA Times
architecture critic, 1971 (via @SFGate)