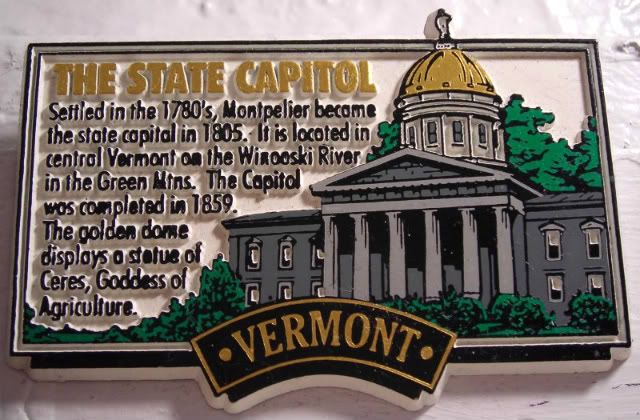 Magnet #337 - Vermont State Capitol
So even though I just got back from London last month, I'm finding myself living vicariously through
Goldengait
's London blogposts. Yesterday, she started out with a plan, and was
thwarted
at every turn.
Ya'll know that I like to travel. With an itinerary. A fully packed, fully researched itinerary. And maps. Lots of maps.
Sometimes, even those don't help. But, always, when the wind takes you down the road, that's when the fun begins.
Take, for example, the New England weekender my roadtrip buddies and I did. That's how we found out that Montpelier, VT, is quite possibly the cutest state capital in the country. Seriously. We fell in love with this town. From the Corner Café with the old timers out front, to the used bookstore down the street, and the family maple syrup farm up the mountain to the sweetest capitol building ever.
It's seriously as cute as Stars Hollow from
Gilmore Girls
. And I've been there, so I know from cute. It was one of the highlights of our trip.
Of course, it didn't hurt that every other attraction we drove to...was CLOSED.
No joke. It became the running theme of the trip - everywhere we went, places were closed for the winter season. Dudes. We went in April!
And it wasn't just the attractions. We were navigating secondary roads, until we made the wrong turn, and the road ran out. The bridge was out - frozen over. Freaky.
A recap list of our trip. Of course, you'll be revisiting some of these sites in magnet form. Well, not the ones that were CLOSED.
Thursday
(NY)
New York State Capitol: Missed Tour

Empire State Plaza
New York State Museum
Adirondacks
Martin Van Buren Historic Site: Missed Tour
Friday
(NY/VT)
Lake Placid
Where'd You Get That Hat? hat shop
Winter Olympic Museum
Verizon Sports Complex
John Brown Historic Site: CLOSED
Ferry over Lake Champlain
Lake Champlain Chocolates
Shelburne Museum: CLOSED
Vermont Teddy Bear Company
Ethan Allan Homestead: CLOSED
Church Street Marketplace
Saturday
(VT)
Montpelier
Corner Café
Vermont State House: Missed Tour
Vermont Historical Society
Walking Tours
Ben & Jerry's
Rock of Ages Quarry
Floating Bridge: CLOSED
Maple Trees
Joseph Smith Memorial
Calvin Coolidge Historical Site: CLOSED
Bennington Monument
Sunday
(MA)
Edith Wharton Estate: CLOSED
Norman Rockwell Museum
Holstein Gallery
Olana: Missed Tour