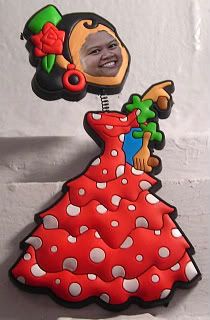 Magnet #617 -

Señorita

Joy
Talk about
creeeepy
. Or, just a bad
Photoshop
job, honey.
Heh
. Inside work joke.
A friend of mine brought this
Spanish dancer
back for me from Spain. Love her, even if she freaks me out because she's a little
bobbleheady
. (No, it's true. I'm not so good with the
bobbleheads
, it makes me bobble my own head.)
Just figured I'd use this to get into the Halloween mood. I'm supposed to be at a Halloween baby shower in NC today, but didn't make the ride down. Of course, this was the same couple that had a Halloween wedding reception. It was a great idea - they sorta-eloped with their parents and the priest, and then a month later, had a big costume party wedding reception. Genius.
That way, girls could wear their old bridesmaid dresses - my best friend wore my dress that I wore for her wedding. Wait. Is that weird? Maybe a little. I showed up as the wedding planner, in a business suit, clipboard, and lanyard and phones.
Yay
, 1st place. Of course, I'm sure it was rigged.
I rarely do the dress-up thing anymore, the last time I went
allll
out with any effort was as Jokey Smurf at Carolina. That's where we do it right - closing Franklin Street down and everyone running around
unsober
in costume. Really fun stuff. No real trick-or-treating, but that's what Nov 1st is for, to go buy the candy you want...at half price.
Honestly, in my 14 years here in town, I've still not done the Greenwich Village Halloween Parade. Dudes. I get freaked out in my cube in broad daylight. The thought of a million strangers in costume and
trying
to scare people? Scares me.
So, it's the Chocolate Show for me today. We'll see if they have a magnet.
*A la pretty boy
JT
. And no, not
Sweet Baby James
that went to
Carolina in his mind
. Though, there is
something in the way he moves, too
.
Hahaha
. See what I did there?
What?