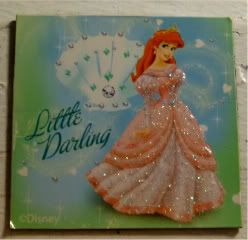 Magnet #1015 - Ariel
I have to admit, whenever I see this Ariel magnet, that Beatles song,
Here Comes the Sun
runs through my head. It's on the
Parent Trap
soundtrack, which is surprisingly one of the best. soundtracks. ever. It's one of my favorite movies, even if it's a little bittersweet watching Natasha Richardson in it.
Ariel was named
Disney princess with the best hair
a couple of weeks ago. I think it was a bit of an unfair competition, given that Snow White is like 73 years old, Cinderella's like 60, and Rapunzel's not even a month old! It's hair from different generations, and therefore shouldn't be judged against each other. Nevertheless, Ariel does have
supercute
hair, both above and below water.
For me, I will admit that I'm
superjeal
of Rapunzel's hair at the end of the movie.
Why all the hair talk? Because I figured while I don't really have an office to go to, that I might as well take this time to grow my hair out and donate it. I try and do this every so often, but I never make it - I get so frustrated with ponytails, hair clips, and barrettes that I just run to the nearest hairdresser and ask her to chop it all off.
So, for the past several months, I've been waiting and waiting for my own hair to grow, to get that eight inches. And my hair is growing
sooooo
slow!
Hurrrrrry
upppppp
!
/
whinewhinewhine



eta:




And, in case you wanted to know where the hair's going...STW Sis donated her hair earlier this year to

Pantene's Beautiful Lengths program

. She's done it a couple of times already. I wonder if they can tell by hair condition if you've been using their products. /randomthought