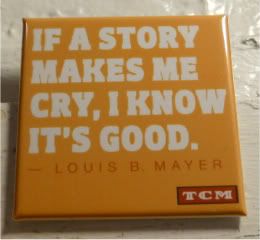 Magnet #1028 - Louis B. Mayer quote
So much word.
Otherwise, I wouldn't be in the midst of dropping both Lucy Liu's
Marry Me
and Alyssa Milano's
Sundays at Tiffany's
to DVD right now.
What? I'm a girl. I'm nearing midlife. I'm single. Clearly, I'm totally the demographic that Lifetime is aiming for.
The thing is, Mayer's quote has been true all of my life.
Whether it was Louisa May Alcott's
Little Women
in the fourth grade, Iris Johansen's
And the Desert Blooms
in the seventh grade, or Sarah MacLean's
Nine Rules
or
Ten Ways
just this year - the hallmark of a good story for me, is whether or not I sniffle.
And it's not just books - it's movies (hello,
The King's Speech
or
Tangled
at the end) and television shows (hello, Rose and Ten's goodbye on
Doctor Who
), too.
Shoot. Even a really good painting or music composition gets me all teary.
It's pretty ironic that I was once labeled inhuman, because I couldn't empathize when a coworker was sobbing over a bad breakup, and yet, last week at the mall, I couldn't get away fast enough to avoid tearing up over a lost and crying four-year-old, because she was literally screaming at the top of her lungs for her mommy. (Yes, people were helping her.)
So, yeah, I'm really a sap. I'll own it.
That's why, when I saw this Mayer magnet on TCM's
Moguls & Movie Stars

shop
, I knew I had to order it. I'll confess, I actually had to restrain myself from buying the whole set.
Of course, that in itself, is enough to make anyone cry.