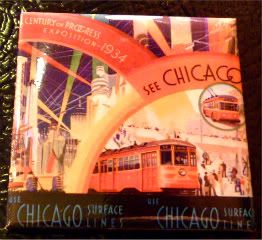 Magnet #1046 - Chicago World's Fair
Three. That's how many times I went through the
Designing Tomorrow: America's World's Fairs of the 1930s
exhibit at the
National Building Museum
in DC.
The first time I went through in just over an hour, a tiny bit rushed, only because I was in rush to
get to through the gift shop to buy this magnet and then
join the hour-long docent tour through the exhibit. A week later, I ended up spending two hours wandering through the eight halls or so, reading the fine print.
I swear, if I didn't start recognizing the volunteers manning the exhibit and the security guards and the guys behind the store register, I probably would have gone a couple more times.
There's some sort of magic surrounding World's Fairs that I've never been able to figure out - most likely, it's a sense of nostalgia, having been to the Knoxville '82 fair twice and then New Orleans fair in '84. But nostalgia's not the only reason, because ya'll know how I love heading out to Queens to see the old structures, buildings, and markers of the 39/40 and 64/65 fairs held there. So much fun.
What I didn't realize was that the 39/40 New York fair was just one of six World's Fairs held across the nation in the 30s, the others being Chicago's A Century of Progress International Exposition (1933–34), San Diego's California Pacific International Exposition (1935-36), Dallas' Texas Centennial Exposition (1936), Cleveland's Great Lakes Exposition (1936-37), and San Francisco's Golden Gate International Exposition (1939-40).
And the Designing Tomorrow exhibit (and
accompanying blog
) was just amazing, delving into each fair, the exhibitors, but mostly the design components - architecture and building materials, lighting and landscape, transportation and innovation, etc. The breadth and depth of the exhibit is truly remarkable.
My only complaint is that most of the oldies (and me) were bending down too far (indeed, on my haunches a lot, I was) to read the incredibly fine-print captions in like 8-point type (for some of them). But I didn't want to miss an inch of what they had to teach me!
Besides those captions, the exhibit itself is fabulously art deco-ily designed, coupled with giant sweeping images of each fair, gorgeous posters and wall hangings, great artifacts, displays, and videos.
I totally got lost in the wonder of all the fairs, and the 1930s walking through the halls. I loved it. But, I'm sad there's not a Designing Tomorrow catalog, because I would have totally bought one, or two.
When you go see the exhibit for yourself (as you must), definitely spend as much time as you can roaming through it - by yourself, and then take the really good docent tour. For example, without that tour, I never would have known that the first year of the Chicago fair, all the buildings were multicolored, as this magnet suggests. People didn't take to the garish technicolor(y) approach, and so the next year, they painted everything white...which is why
Erik Larson's book
is not called
The Devil in the Multicolored City
. Neat, huh.
Anyway, when you're done with the World's Fair exhibit (and the Palladio one and the Lego one and the others), go spend as much time as you can at the museum gift shop...it's one of my faves in DC, and just in general. Fantastic book section, incredibly dangerous for me and my wallet, so I have to avoid it.
They do have a good World's Fair tchotcke section, where I bought a few stickers to turn into magnets...at $10 for two, I couldn't justify (or pick between) all three sets. Hence the stickers, annnnnd maybe one additional one.
So yeah. In all, I'll eventually have seven magnets for one exhibit. Huh.
That New Year's Resolution to take it easy on the magnets is working out so far, I guess. Oops.