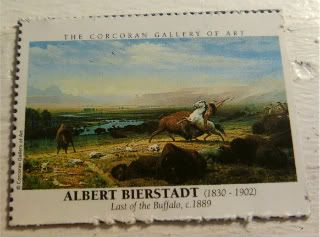 Magnet #1102 -

Bierstadt's

Last of the Buffalo
Another one of my postage stamp magnets from the
Corcoran
.
The Last of the Buffalo
looks small here, but it's actually something like 5' x 9' - like most of Albert
Bierstadt's
work, it's pretty huge. It's one of his most important paintings late in his career, and one telling the story of the last days of the buffalo, and the Indians who hunted them. Supposedly, this painting is set at the foot of the Wind River Mountains in
Sweetwater
County, Wyoming.
For a select few, probably just my sisters and me, you'll know
Sweetwater
territory as the home base of the
Young Riders
, the
supercute
boys of early days of the Pony Express...and their
housemom
, Emma, played by a very young Melissa Leo, before her Oscar-winning, f-bomb dropping speech last night.
Here she is, with a very young Josh
Brolin
, before his own
matchy
-
matchy
Oscar-presenting with Javier
Bardem
, cater-waiter outfit.