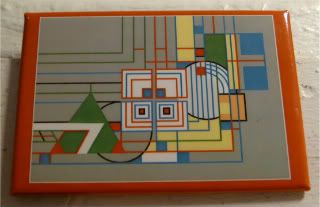 Magnet #1099 - Frank Lloyd Wright's

December Gifts
Heh. #1099. Appropriate given how much freelance work I'll have done this year. Yep. Rather than settle down to find another agency job, I've taken on a few freelance projects to tide me over the beginning of this year.
Things happen for reason, because the day after I accepted the third concurrent project, I found myself urgently flying down to North Carolina. And with me here for a little bit, it's been a very good thing that I can tackle these projects remotely.
This magnet - yet another from my BEA escapades in the
Pomegranate
booth (I should work for these people, at this point!) - is an adaptation of Frank Lloyd Wright's
December Gifts
, one of a dozen abstracts that FLW designed in the late 1920s as covers for
Liberty
, one of the leading magazines of the day.
From what I understand, they were never actually published, but these graphic designs ended being adapted up on many - and I mean, many - walls, floors, tables, countertops, and windows. Not to mention countless keepsakes, books, coloring books, postcards, notecards, ties and calendars.
And of course, magnets.