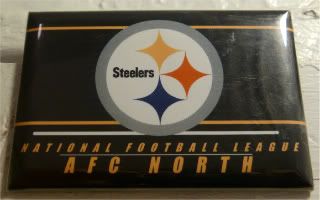 Magnet #1080 - Pittsburgh Steelers
Dudes, I dunno. I'm the one using this magnet at the start of the Super Bowl's second half where the Steelers are down 21 to 10.
But, I figure if I go ahead and use this magnet for today, then I don't have to wait until the next time the Black and Gold become AFC North champs.
Of course, I haven't a clue where I got this magnet. No, really. I think someone gave it to me back in 2008, but I'm not entirely sure why. Or maybe I bought it, and was I supposed to give it to one of my Steeler fan friends?
Eh, who knows.