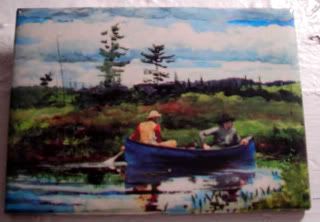 Magnet #312 - Winslow Homer's The Blue Boat
Every year around this time, my sisters and I go to the card shop and look for birthday cards for our dad. And every year, we have to eliminate a good 75% of the great cards, cuz they use the word "Dad" or "Daddy" on them, instead of what we call our dad -
Tatay
. That's Filipino for Dad or Daddy.
That's just who he is - Tatay. It's weird to even think of calling him anything else.
Actually,
this article
is fairly interesting - all about how this Filipino reporter's sons are pronouncing Tatay in Obama's America. (They speak Tagalog, while my parents speak, and are, Visayan, but the Tatay concept remains the same.)
And no, I can't think of any word that will help you pronounce it correctly. It won't matter - for some reason, no non-Filipino can pronounce Tatay correctly. I'm serious. I've had friends whom I've known for 20 years now and they still can't pronounce it. They say, TatAye
,
or Daday
,
or even TayTay
.
Weirdos. That's my Tatay!
It's Tatay's birthday today, so a very happy birthday to you! Mind you, the first umpteen years of our lives we all thought you were a New Year's Eve baby, until you finally clarified that you're actually a New Year's Eve, Eve baby. Anyway, hopefully you're enjoying your TVs and your new DirectTV today. Sorry we're not down in NC to help...watch tv.
I picked today's magnet, because it looks like my dad might have a new fishing boat buddy down the line.
(Aside from Mom, that is. No, we just call her Mommy, or Mom. I dunno why, but she never wanted us to call her
Nanay
, the counterpart to Tatay.)


That fishing buddy might be my sister's fiance, Gordon, whose birthday is today as well. Happy birthday, Gordon!
And, don't worry Mommy, I'm trying to find just the right magnet for your birthday in May!