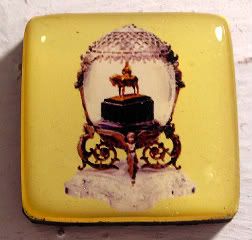 Magnet #305 -
Fabergé

Egg #2,
Equestrian Egg


So, I mentioned before that I love
Faberg

é

eggs
.
This one's the
Alexander III Equestrian Monument Egg
, as near as I can tell. The colors are a bit off, but all the design elements are there, so it must be the right name. It was made in 1910, of gold, platinum, diamonds,
lapis
lazuli and rock crystal.
Last week, I finally got to go back to one of my favorite museums ever - the Victoria & Albert, one of the grandest museums devoted to art and design in the world. It was established in 1852, the year after the Great Exhibition.

One of their special exhibits is the Magnificence of the Tsars, and while it was a gorgeous exhibit, I was saddened by the lack of

Faberg
é
E
ggs

(and therefore, lack of cool
Fabergé

Egg
magnets). Instead, they sort of went the cheesy route, selling the
matryoshka

doll magnets,
which of course I bought. H
onestly
, I just wanted one or two eggs to have been included.
But, there were several pieces included in the exhibit that were astounding - according to the older design students and designers that were fairly a-twitter over the cases. I was enjoying their reactions - in between waiting for them to read every sign. (Something that usually people are waiting on me to finish doing).
One of the coolest things they had (besides the undergarments and the lush overcoats) was the coronation-wear. Amazing. So beautifully designed, with detailing that would blow you away. Simply gorgeous.
Well, if you can get around the fact that almost 2,700 ermines gave their lives for just this one
coronation mantle
.
I've never been particularly save the world-y, but dudes, they made three identical ones for the emperor, empress and the dowager empress - that's more than 8,000 cute as buttons ermines!
Now there's a part of me that thinks maybe PETA was behind the Revolution.