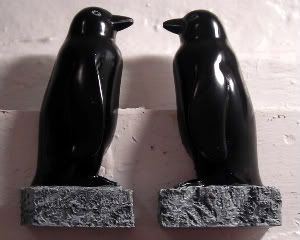 Magnets #643a & 643b - Penguins
Another one of my Magnerines collection. What? I love these guys. Of course, I really just line them up on my cube shelf at work, rather than use them as real magnets.
Anyway, I heard somewhere that penguins - like the lobsters - mate for life. No, I haven't seen
March of the Penguins
, but I could swear I've heard it.
So, the whole reason of this Italian holiday, was for us to be here in Italy for the Save the World wedding - wherein my youngest sister married Save the World BIL (brother-in-law). Our family and his traveled here, and stayed in Tuscan villa. Yes. Exactly like you see in the movies, only minus the French baguettes and peasant shirts and skirts, and the hot guys wearing jeans and white T-shirts, with a cig hanging out of his mouth.
Actually it was a beautiful villa - about 20 minutes from San Gimignano, where the ceremony was. But, it was a nice to see the two of them sort of huddled together like penguins against the world, a little united front, trying to shield each other from the onslaught of family togetherness.
Eh, if they can weather pulling off the Italian dream wedding, I think they're pretty much set for life.