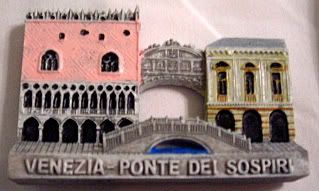 Magnet #645 - Venice - Bridge of Sighs
Yesterday, while Save the World Couple went off to their Malta honeymoon, the 8 of us remaining went off to Padua, with a quick trip over to Venice.
I've been to Venice once - on my AMA band trip. Where a starry-eyed boy and I spent a few hours wandering the sidewalks and bridges of town and having pizza, so my memories of Venice, are really more of the boy than the town.
Yesterday, I got to make new ones, which were terrific. Though we lost daylight on our vaporetto (water taxi) ride over to Piazza San Marco, we were able to see the beautiful architecture and churches along the way. I was pretty happy - and of course want to watch
Italian Job
, David Tennant's
Casanova
and the third Indiana Jones movie.
At least till I saw
this
treatment of the
Bridge of Sighs
. I wanted to cry. I'm an adgirl, so I know the wonders of selling valuable adspace for too much money - but seriously, it's almost a desecration. Oh, I totally get they were probably renovating the palace and the prison on either side, but give me a break, the bridge was built in 1602. How is it that 400 years later, it's turned into that? How freakin' sad is that image?
Ah, Venice. I'm heaving a sad, sad, sad sigh for you.