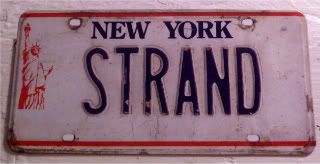 Magnet #904 - The Strand
Impromptu DC
roadtrip
turned into today's impromptu New York City Adventures day, wherein I shepherded my teen cousins around town.
Crazy walking - of course...and combined with some crazy eating. The day included a picnic on the
High Line
, a walk around
Chelsea Piers
, a visit to the
Forbes Galleries
for their soldiers and toy boat collection, cupcakes at
Baked by Melissa
, browsing the Strand, storytime at the Scholastic store, stumbling into the
Van Leeuwen
ice cream truck, browsing
Pylones
and the
MOMA
Design store, tons of rice pudding at
Rice to Riches
, a
glamhike
through
SoHo
, and pizza uptown.
Seriously exhausted, but so much fun! It's truly why I love this town...when we were deciding what to do this morning, we couldn't think of anything. So, we just got on the subway and let the day take us where it may.
Of course, I think I need a pair of handcuffs for
The Strand
. I can't help but pick up books and books there!
Argh
. But, dudes. How cute is this magnet!