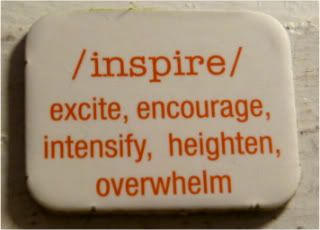 Magnet #1001 - Inspire
Dudes. You've no idea the pressure over selecting the next of the millienialmagnets!
I figured a little echo from yesterday's magnet wouldn't hurt, so I'm using this inspire magnet for a couple of the most gratifying days I've had in years.
I know it's not even Thanksgiving yet, but JCP is running their
Adopt-an-Angel / Angel Giving Tree Program
again this year, in partnership with the Salvation Army and Rascal Flatts.
Yesterday I volunteered for their media event down in Herald Square - your usual "hand over a giant check" and shake some hands media event, followed by a little meet and greet with the band. We helped the Salvation Army collect toys for the toy drive, and in return JCP/RF gave away autographed copies of the latest CD.
Then, this morning, I got to help out in the Salvation Army Toy Workshop! Dudes. A. Toy. Workshop.
If you guys know me at all, you know that I love toys. Christmas. Gift-wrapping. And not necessarily in that order.
Shoot. If you know me at all, you know that for me, being in the Toy Workshop, knee-deep in piles of toys, looking for just the right one for little Johnny or Suzie must be what Heaven's like. (Only with more chocolate and television. And George Clooney. And Joshua Jackson. And David Tennant. And throw Alex O'Loughlin in there, too.)
Can I tell you guys? I had the best time for those few hours, sorting and resorting, pecking and hunting, bagging and tagging toys for a local daycare. Yes, it was just me with my supervisor (Dudes, she's in charge of a Toy Workshop! How is that not the best job in all of the world right now?), and the toys, and I don't remember the last time I felt this good about something I was involved in.
Don't get me wrong. I love volunteering. But, usually, when I volunteer, it's for stuff like Tribeca Film Festival with an angled view of the Red Carpet and Mickey Rourke brushing past me as I'm calling for audience ballots, or a Dragon Boat Festival where I'm knee-deep in a semi-submerged boat in the Hudson wondering why the cuteboys aren't helping me bail water, or at the NY TV Festival giving out directions, waiting for my comp pass to a TV critics panel, or once, (and I quit after one session)
babysitting
helping over-privileged, spoiled Upper West Side kids through a kids' workshop at a kids' museum.
So I never really get to
help
anyone.
But, this was different. Yeah, I don't get to see the kids unwrap their presents, but just knowing that because of the Salvation Army, they'll actually
have
a present...well, that's present enough for me.
What inspired me this season? (Don't think I'm not mourning for all those seasons past that I could have been helping out there.)
The only reason I ended up helping out is because I had on the TV in the background last week, and heard the JCP Angel ad come on, and I was tickled because the VO said something about the greatest gift you can give someone is joy.
I was amused so much, that I went online and picked an angel, who lives somewhere in a 2-block radius of me. As I was clicking here and there, selecting all my gifts, it struck me that I wondered who was coordinating the gifts and wrapping the gifts on the other side.
The next day, I emailed the Salvation Army to see if I could help out in any way, and voila! Toy Workshop. I can't wait for Thanksgiving to be over, so I can come back and dive back into the toypiles.
Who says TV ads don't work?