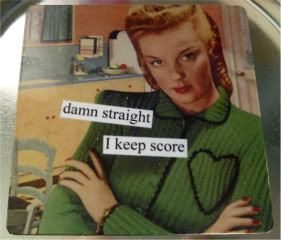 Magnet #1136 - Damn straight I keep score
Wait. Doesn't everyone?
I just liked this
Anne

Taintor
magnet when I picked it up a few weeks ago. This chick looks
hella
ticked off.
It's actually the feeling I've had the whole night watching
The

Kennedys
on
Reelz
Channel. For whatever reason, it's becoming pretty clear early on that this production about the Kennedy dynasty has decided it wants to keep highlighting all the indiscretions of the Kennedy boys, father and sons.
I love historical miniseries, so I was actually looking forward to the miniseries when I first heard about it. Admittedly, it was mostly because I could see Katie Holmes as Jackie Kennedy pretty easily. And it was her first TV role in a very long time. (What?
Ya'll
know I'm a sucker for
Dawson's Creek
.)
I was disappointed once the Real!
Kennedys
managed to get the show pulled from the History Channel, but it was pretty obvious that the controversy was going to generate even more public interest in seeing it. You knew some channel would pick it up, despite all the bad reviews from the
tv
critics who had already received their
screeners
.
I was glad when
Reelz
Channel picked it up - at least then we'd get to gauge for ourselves what the hubbub was all about. Of course, like many other people I hadn't a clue what
Reelz
was, much less watched a single show on it. And from what I could gather from Twitter following the #
TheKennedys
stream, a lot of folks were having trouble even finding the network.
Still, they made a pretty smart decision to buy such a controversial miniseries, introducing themselves to totally new set of audiences.
As far as
The

Kennedys
itself? The Twitter stream proves once again how baffling it is for people to all be watching the same exact show on television, and have completely opposing viewpoints on what they've seen. One Tweet would be positive and the next would say the exact opposite, and so on.
@

Kennedysmovie
, producer/director
@

joncassar
, and even
@

reelzchannel
have been fantastic all night, monitoring and responding to the
hashtags
, so that's a big win for their social media campaign.
For me, other than the seeming salaciousness of the Kennedy boys, which I don't really doubt, but that I don't really need to see in something that some people will take as fact,
The

Kennedys
is
ok
entertainment. I can definitely see why it shouldn't have been on History - too bad they didn't figure that out before it was too late.
Tom Wilkinson and Barry Pepper are amazing to watch as Big Joe and Bobby Kennedy. Greg
Kinnear
and Katie Holmes are simply doppelgangers for JFK and Jackie. I think it's unfair to judge the actors so early on, but I will say that except for Barry Pepper, the Kennedy accents are all over the place.
Production-wise, the overall production design is great. And Jackie Kennedy's costumes are simply gorgeous.
The story itself is a little slow, but I find myself learning little nuggets of history here and there, which is cool. If you're only half paying attention, though the
timejumps
can be a little disorienting.
Overall, hopefully it picks up soon. We're at Hour #2, and I'm a little worried at how I'll feel having sat through Hours #3-8 by next Sunday night at this time.
Wait. Did I mention Jackie Kennedy's costumes are gorgeous? I'll just concentrate on that for now. That, and figuring out what other shows
Reelz
Channel has on its dockets.