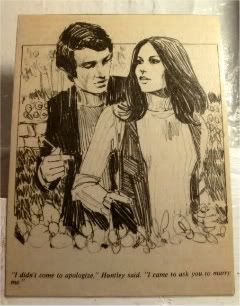 Magnet #1147 - Mills & Boon, Huntley proposes
Today's
Mills & Boon
magnet was from a good friend who also loves a good love story. I figured it should be used for today, because there are just some things you take for granted will always be around.
Paperback romance books are one. Soap operas are another.
Today,
ABC Daytime sounded yet another death knell of soap operas
by canceling two of their long-running shows,
All My Children
and
One Life to Live
in the coming months, planning on replacing them with ridiculous reality and lifestyle programming.
It's not a surprise to anyone who watches soaps, really. We've known they were dying for years, but we were still surprised when it finally happened.
After all, ABC has been throwing Hail Mary passes for years, trying to keep the shows afloat - moving productions across country, skimping on production values, overworking their talent and crew, reducing show orders, and myriad other tactics.
Ironically, instead of saving the shows, quality suffered immensely, viewers left in droves, leaving ABC to finally manage to drive the shows into the ground.
To be sure, the economic impact is going to be scary - hundreds of people will now be out of work, not to mention the trickle-down effect to other ancillary outlets (industry magazines, a steady stable of pretty talent to pull for other shows, marketing, production, etc.).
But more dramatically (and fittingly so), there's an emotional impact that canceling these two shows will have. It's been playing out all over Twitter and FB all day - stories of how folks watched it with their mothers and grandmothers, of how the families of Pine Valley and Llanview are like real families, of how these shows have helped shape generations of women and men since they started airing more than 40 years ago.
And, if you think about it, these TV families have been coming into people's homes for 40 years, it's no wonder that there's a real sense of loss and betrayal from the audience.
It's fairly sad-making, no matter how much we were prepared for it.
Anyway, too many other folks will write scathing and/or objective autopsies of what ABC did wrong over the last decade, and still other folks will write heartfelt good-byes to the shows, so I won't go on about it anymore.
But, I have to believe this: Romance is still the best-selling genre for a reason.
There will always be men. And there will always be women. And there will always be men and women falling in love with each other.
Which means that it doesn't matter what format it's in, there will always be great love stories to tell.
Now we just have to look harder find them.