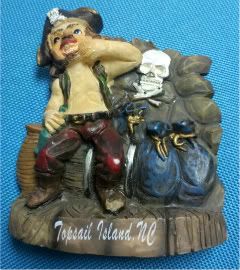 Magnet #1202 - Pirate from Topsail Island, NC
When I was little, we used to go down to the river after the office, and fish until dusk. Then we'd come home, my mom clean the fish (cursing the whole way, "Girls, don't marry men who love fish!"), and they'd eat fried fish for dinner, while the girls and I would...not.
The same would stand for
roadtripping
to the beach and fishing piers - only for those, we'd take overnight shifts, manning the
crabnets
and the fishing rods all night long.
Yep, my parents love fishing. Something I've always known, really. But, as it turns out, while my father's forte is eating the fish, it's my mother who wears the fishing pants.
I had no idea how much until today, when the BIL and I took the parents out to Topsail Island, NC - the first time my parents have been out since my dad's heart attack in February, and a much-needed fishing break for the two of them.
When we first got there, my dad shopped for the day's catch at not one, but two different fish markets - across the street from each other. Meanwhile, my mother fairly bounced in her seat, waiting for him to get done shopping. Seriously, she was like an impatient five-year-old. "
C'mon
! Let's go! Hurry up! Let's go fishing!
C'mon
!" There was a part of me that wanted to look back from the driver's seat and say, "Settle down, young lady!" but I'm pretty sure nothing would crush her exuberance.
When we got to the pier and were paying our entry fees, we had to call her down with a "
Sloooow
down!" to get her to come back over to the cashier, to mark her rod. She giggled, and then made for the pier. It was she who led the way to the selected bench, she who dug out the tackle box, and she who pulled out the first bait.
From there, it was like we were actually renting rods from my mother, who (in between casting and fishing with her own rod), made sure that each of us and our other three rods were jigged up and fully loaded with bait. She was also in charge of removing any and all fish from our hooks after we reeled them in. And very helpfully told us where on the pier we should thinking about casting our lines.
On top of that, turns out Mom's one of those
humblebraggers
(Oh, I'm
soooo
tired of catching these bluefish. Where are the mackerel?!) who point out your shortcomings (Oh, Joy, there shouldn't be any reason you're not catching anything, that jig is perfectly fine! Here, let's look at it again. No, see, it's perfectly fine!)
After a few hours, exhausted and sunburned (
ok
, that one's just me), we climbed into our monstrous church van (no, it's not a real church van, just the size of one) and headed...back to the fish markets (both of them!) to make sure that they hadn't gotten anything new, but really to make sure we had...more fish to go home with.
Our day's catch? If you ask mom (and I did), she'll say, oh, it doesn't matter how much we caught! (Even though she totally mentally counted every one!)
We caught probably half a cooler full of fish - and only about four of those were mine. The parents and BIL managed to catch some good ones, though. And some were even
thisbig
!
Such a fun day...which ended after a 5-hour
roadtrip
back home, where my dad and mom ate fried fish...and I did not.
By the way, until today, it had been a good 20 years since I'd actually cast a line. And,
ya'll
- I'm
still
good at it! Mind you, I don't catch worth a damn, but I get those jigs way the hell out into the water off the pier.
eta:
Oh! Today's magnet! I picked the pirate magnet from Waves (yes, with the requisite giant alligator entryway in front) for two reasons.
1) Because they totally found Blackbeard's
Queen Anne's Revenge
off the coast of NC and are conducting an archaeological dig around it. How cool!
2) Because I had considered doing a
whole Pirates of the Caribbean 4: On Stranger Tides
post. But, short and sweet? Not as good as the original, but leagues better than 2 and 3, with a whole

plotline

that I didn't mind, and none of the gross tentacle-y,

Ood

-like characters I hated from the other two.