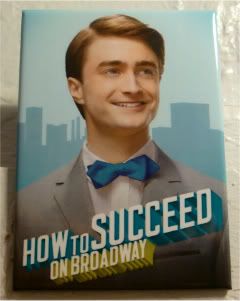 Magnet #1215 - How to Succeed
In a word: delightful.
I've mentioned before that every so often I have to remind myself to take advantage of this town and everything Broadway has to offer, so last month (pre-Tonys, thank goodness), I went to
Playbill
for their discounts, and decided to hit up
How to Succeed
.
I can honestly say it's been a while since I've had so much fun watching a show - especially given my reactions to
Spider-Man
and
HAIR
and
American Idiot
. (On Broadway, I mean - seeing David and Catherine in the West End last week doesn't count.)
Mind you, I can't stand the actual storyline of
How to Succeed
, because it really does cut a little too close to the buffoonery of Corporate America, but once I let that go, I was fine.
The Mod set design was well lush, and the fantastic cast (including the awesome John Larroquette) were outfitted in gorgeous costumes. As with
Mad Men
, the costumes made me feel as though I born a few decades too late. And the big production numbers were incredible - totally old-school Broadway musicals, and so much fun.
Finally, and here's the biggest surprise for me tonight - little Daniel Radcliffe, with the American accent so good I forgot he was a Brit (take notes, David Tennant), makes a terrific song-and-dance man. Something that - even after I saw him on the Tonys - I was worried about, having heard about the song-and-dance lessons he's had to take. Well, they totally took, because he was a pleasure to watch. Small in stature, but great presence on stage.
It was like...magic.