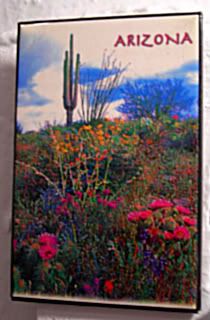 Magnet #91 - Arizona
So I spent a good 10 minutes scouring my magnet boards because I couldn't find an Arizona magnet for the first of the two-day segment.
Quelle horreur!
Then, complete with a spotlight and a chorus of angels - at eye level, natch - was this jobbie.
Haven't a clue where it came from, but thank you to whomever gave it to me.
Today we're driving around New Mexico and Arizona. New Mexico for the
Gila Cliff Dwellings
- almost the Anasazi stuff of
X-File
lore, but not quite. And then a few ghost towns...where I pictured the four of us GAR roadtrippers as the Scooby gang, solving a mystery wherein the weird guy who owned the dilapidated inn was wearing a ghost costume to keep people from visiting (because there's a big secret hidden in the ghost town, of course), complete with glowing footprints and explanatory denouement. Hahahaha. Any. Way.
So, the rest of the day was to be Tombstone - dangit, I even re-watched
Tombstone
so that I'd be able to tell folks that the gunfight didn't really take place at the O.K. Corral, but down the street.
Well, it's not like I really liked the movie anyway. Val Kilmer was just too scary lookin' for my taste. Though, oddly, Kurt Russell and Sam Elliott were pretty compelling.
GAR Track of the Day:
Rawhide
. Again, probably just would have been belting it out. Oh, who needs a radio or cd player. Heh.
b13 may have been right, the singing
might
have posed a problem.

eta:
Success! The great
Doctor Who
magnetwatch is complete! Received the magnet set yesterday...one day too late to be my Roswell entry, but can't wait for June!