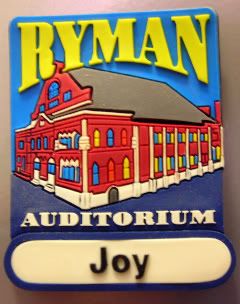 Magnet #86 - Ryman Auditorium, Nashville, TN
So today, we're in Nashville, TN, visiting the Bluebird Cafe, the Parthenon, and the Hermitage this morning. Driving to Memphis in the afternoon. (Yes, this was an ambitious day. They all were.)
Man, my verb tenses are gonna be nuts for the next two weeks, huh.
I've been to Nashville, but not as an adult. One of the GAR roadtrippers brought this magnet back from her own Tennessee roadtrip.
Ryman Auditorium
was built in the late 1800s, and found itself as the home of the Grand Ole Opry for years and years and years, becoming the launching point for many country music careers along the way.
Even though I'd grown up around it most of my life, I had a healthy distaste for country music until one of my college roommates educated me on the best of country music. Still love the stuff, though living in New York, you don't get much exposure to it. So much so, that when Garth played Central Park almost a decade ago, I was heartily convinced that I would be the only one in the park.
Man, was I wrong.
GAR Track of the Day:
Thunder Rolls