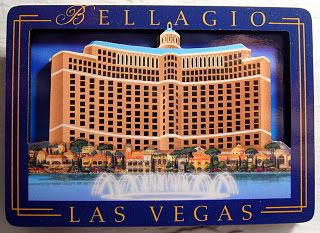 Magnet #94 - Bellagio, Las Vegas
As our second day in Vegas, today was supposed to be a full day of Las Vegas hi jinx. The oddest thing about Las Vegas is the fact that once you get inside one of their monolithic hotels, you can't tell if it's day or night. It's insane. And the exits/entrances are like miles away from wherever you are, so leaving the grounds just seems harder than just plopping down in front of the nearest slot machine.
We were booked for a few nights at the Wynn hotel for the GAR, probably the only hotel that could beat out the Bellagio. Because the Bellagio? Heaven. No, seriously. This hotel is just. heaven. From the Chihuly glass entryway to the rooms, to the buffet, to the art gallery, to the conservatory gardens. Loved. This. Hotel. It just makes you
feel
wealthy, and transported off the strip. The dancing waters in front of the hotel are just as Clair-de-lune-y as
Ocean's 11
makes it out to be.
Last time around, after checking out of our beloved Bellagio, roadtripped out to Utah, and on our way back to fly out of McCarran, baby sister forgot that she'd left her stuffed moose Napi back in the Bellagio. After much, much upset and pouting, she called the Bellagio, so that we could pick it up our way out.
Dudes, it was just a stuffed moose, not the Hope Diamond...but when she got to the front desk, she was told to wait - as the front desk attendant went to go retrieve the stuffed moose. From an undisclosed location. Freaky.
GAR Track of the Day:
Viva Las Vegas