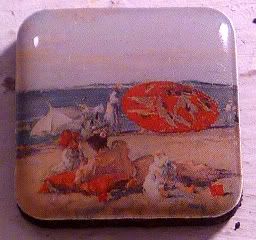 Magnet #819 - At the seaside
Something I don't know a lot about - American Impressionism. I just never thought about how the movement in Europe would have of course, been carried out over here, too.
American artist William Merritt Chase painted this
seaside scene
, very much an Impressionist piece if ever I've seen one. He was also an art teacher at a beach resort - I love that he apparently taught open air classes to like a hundred students at a time. That must have been cool to see on the beach.
Mind you, I saw this image, and immediately assumed Normandy, or somewhere else in France. As it turns out, it's Long Island. Heh.
Picked this for today, because everyone seems to rally at the beach on LOST. Everyone. Makes sense - as Linus said, the water at our backs...well, except for that part where there are subs watching people on the beach.
I'm going on Hour 4 of my Great LOST marathon. I had to put the show on hiatus before I left for Tampa, so I'm about 11 episodes behind. Well, 8 now.
And I have to hurry! There's a Paley Center LOST party this weekend that I was hoping to go to, but if I can't get sufficiently caught up, I don't really want to go. What if I get spoiled?