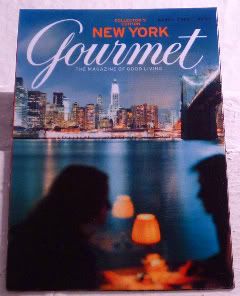 Magnet #814 - Gourmet New York
There are all sorts of reasons why I love living in this town. Sure, it can suck the life out of you in an instant, but you know what? It can give back, just as easily. And more.
Today was one of those days. Usually, I'm pretty content to stay abed on a Sunday, watching a million hours of television. But I was hungry.
I knew the
Ninth Avenue International Food Festival
was happening today, plus, I had heard that the poor
Empire Diner
was having its last 24 hours party, and I so was craving a strawberry milkshake. So I got my lazy bum up, and left the apartment, and trucked down to 57th street.
During the summer, New York City has at least one street fair on Saturday and one on Sunday. Different neighborhoods, different nationalities, different occasions. But always on a weekend. It's one of those things where you know you can find cheap whatevers there, and you know you can find the finest street food to gorge yourself on. I mean, really, who doesn't want a funnel cake/zeppole/sausage/mozzareppa/cheesesteak/roastedcornonthecob/lemonade/smoothie/watermeloncup? And that's just the stuff you can walk around with, never mind all the Styrofoam-plated meals you can take home with you. That's every summer weekend in New York.
The Ninth Ave festival's just a little different - it's where every gourmand of every nationality comes out to play. You seriously can't stop eating at this thing. Whether it's Polish pierogies with kielbasa, potato and cheese. Or, Brazilian empanadas. Or desserts from the Greek bakery. So. Good.
So, after I walked down the length of the food festival - from 57th down to 42nd, I then headed down Tenth Ave to get to Empire Diner for my strawberry shake. Only to find out, their last 24-hours party was a private affair! Zoinks
!
That's how I ended up walking the rest of the way down the West Side of town, in search for my perfect strawberry shake.
What I got was a
great adventure of fun, modern architectural gems
along the way. There are so many cool buildings popping up here in town, so far, my favorites are two residential ones - one beside Gehry's IAC building,
built by Pritzker Prize-winner Jean Nouvel
, and this
one
, by I have no idea. I just love how it hugs and accentuates the Lukoil gas station. I love it. It makes me think of that famous pop art painting,
that I'm blanking on, and am going to drive myself crazy looking for, for the rest of night now
The Standard, by Ed Ruscha
.
I'm always torn between steel and glass versus the bricks and mortar of classic NY, but so far, I'm loving this insurgence of new builds along the west side. It's hip, it's cool, it's almost undiscovered (until I walked into Chelsea Market, ugh). Still. It's New York, and I love her so.
And, I managed to find my strawberry shake over at POP Burger. So. Darn. Good.
I can't remember anymore where I got this
now-defunct but sorely missed
Gourmet
magazine magnet. But I couldn't think of a better magazine for such a great day in New York. Even if this shot's taken from Brooklyn. And it's of the East Side downtown. And it's night.
C'mon. Work with me. Heh.