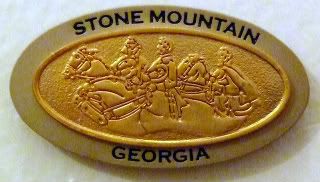 Magnet #803 - Stone Mountain, GA
So, nestled off to the east of Atlanta, is
Stone Mountain Park
, where nestled in the heart of its 3,200 acres, is Stone Mountain, where nestled in the center of its 825 feet tall x 1,683 feet high x 583 acres, is this giant stone relief of about 90 feet by 190 feet - three acres big.
WHOA.
It's a Civil War monument with Confederate President Jefferson Davis, General Robert E. Lee, and Lt. General Thomas "Stonewall" Jackson.
Very cool park - you can stand at the base of the mountain, with a terrific look up at the carving, situated about 400 feet up and then you can take a tram up to the top - or you can climb the 1.3 miles to get up there.
Uh, yeah, just guess which one we did. Heh.