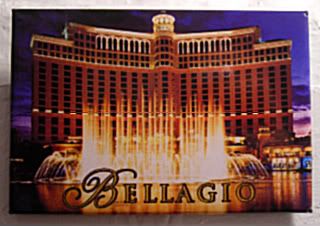 Magnet #114 -

Bellagio

,

Las

Vegas
Yep. I've done a
Bellagio
magnet before, and I've mentioned it on
joy magnetism
quite a few times. What can I say, it might be my most favorite hotel in the world.
And, one can't say enough about the fabulous water fountains out front. Well, I guess you can if you've seen them do
Hey, Big Spender!
Which is a touch scarring. Plus, who can forget the
Claire

de

Lune
scene at the end of
Ocean's 11,
with my boy
Clooney
and the rest of the O11 gang.
But, the real reason I'm using it for today's magnet, is because one of my fellow
bloggers
and poster to this site,
goldengait
, has shared
the funniest damn story about the

Bellagio

water fountains
that I've ever heard.
Hope my sister's fiance reads this and takes note.
Heh
.
And, by the way, if you're hanging around GG's blog, take note of the fun show recaps she does - they're fun, concise, and has a way of making you think Hey! Me, too!