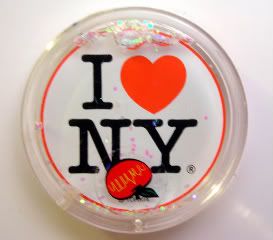 Magnet #100 - I Heart NY
So, after a long drive from Montana back down to Salt Lake, we were to fly home to New York (and North Carolina) today, the end of a superlong trip.
After 17 days on the road, I was planning to take Monday off, just to recuperate from the trip. I probably would have just gotten into bed, and not left it until Tuesday morning. Oiy - I'm tired just thinking about it.
It was a lovely trip, and superfun trying to find magnets in my collection for
joy magnetism
to take the original Great American Roadtrip. And, I managed, too - with only a slight cheat here and there. Thanks for coming along with me!
Ironically, this magnet was the only one that I went out and specifically bought for this GAR series. Despite living here for 13 years, I didn't have a real I Heart NY magnet.
Anyway, this is doubly fitting, since I just saw
Sex and the City
on Saturday, and New York was truly a fifth major character in the film. Well, you know, what I saw of it through the tears and tears and tears. I'm not normally a big movie sobber, but I seriously was Sobby McSobberson for this flick. And, believe you me, I wasn't even a huge SatC fan to begin with!
But, whether you thought it was awesome or not, it seems that most women seem to be having the same reaction to this movie - which is, leaving the movie theatre, desperate to call and reconnect with every single close girlfriend you've had over the years.
Luckily, I just spent the last 17 days with two of them - thinking about it, it probably would have been great fun to end the trip with a midnight showing somewhere in Montana. If anything, had the trip gone insane and we with it, SatC would have sorted us right back out again.
GAR Track of the Day:
New York, New York