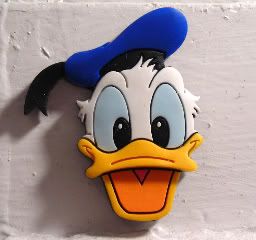 Magnet #108 - Donald Duck
Donald Duck!
I always feel sorry for the attention-starved Donald during the
Mickey Mouse Club
theme song.
So, in honor of the most recognized Disney character after Mickey, I give you: Donald Duck Day. No, I swear! Look it up for yourself. This day in 1934, he made his first appearance in
The Wise Little Hen
.
Sigh. Oh, the places I could go with this Donald post.
My high-school crush which resulted in a penchant for all things Donald.
My identification with Donald's anger management problem.

My wonderment as to why he wears a little sailor hat, but has no sailor bottoms.

My realization that Huey, Dewey and Louie were his nephews...but does that mean Donald has a brother or a sister I don't remember?
What prompted him to head to Latin America to become one of the Three Caballeros? (Which by the way, I totally added to the top of my Netflix queue. Why am I the only one who remembers Jose Carioca?)

Yeah, ok. So, obvi, too much time spent wondering about this duck. Which is weird, since I hate birds. But, that's a magnet for another day.