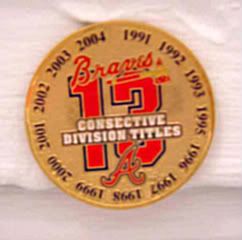 Magnet #116 - Atlanta Braves
I'm not a huge baseball fan - my allegiances toward the Yankees or Mets (or any sports team, really) tend to sway with either the guy I'm dating, or how cute the roster is. Even so, having lived in NYC since '95, I know this magnet's sacrilege around these parts, as is the ballcap that I own.
I picked this magnet up at Turner Field in Atlanta. My sister and I took the tour, something we like to do whenever we're in a major city with a major sporting venue. Backstage tours are fun, we've discussed this. And, it's a pretty good one, complete with going up to the press box, and the dugouts and the bullpens and even the cool Coke-sponsored little area up top.
So, that's how I've come to own a Braves magnet.
And the ballcap? Well, it was on sale for like $6, my last name starts with an A, and goshdarnit, when you find a ballcap that looks cute on you, you buy that sucker.