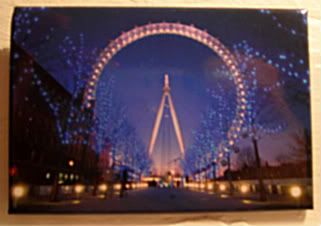 Magnet #105 - London Eye
I still haven't any tickets for David Tennant's
Hamlet
. Yes, I know we've discussed it before. Be prepared, it'll be popping up again, I feel sure.
The funny thing is that I don't even like Hamlet. I don't like the story, I don't like the character. Yes, yes, I know, I can't exactly talk smack about Shakespeare, since it's a trillion years later and we're still performing his work. I see the merit in the play, I swear. I just think - no matter if it's Olivier, Burton, Branagh, or Tennant - the prince of Denmark's a bit of a whiner. Drives me nuts. But, Hamlet's a definitive Shakespearean role, and one that obvi, DT will knock out of the park.
I do wish the papers and bloggers would stop reporting that tickets are still available, or going fast. I've called the RSC three times, and each time they've been sold out - and rehearsals just started Monday. There's to be a decision taken in the next couple of weeks or so, whether or not they're extending the run to London in December. So, I guess we'll wait and see.
Anyway. Moving on. The London Eye. While I'd seen the pictures and footage, I still wasn't prepared to see a big damn ferris wheel slam in the middle of the city nestled on the banks of the Thames, just down the street from Big Ben.
Don't get me wrong - I think it's an amazing structure. I just find myself questioning what it does to the London landscape. And, it's an amazing ride as well. Takes a while to do a rotation, but it really does give you a fabulous aerial view of the area. And, Londoners seem to have adopted it into its hearts and skyline, so I guess it's not quite the eyesore that I thought it was at first site.
The one thing that I would encourage is to buy your timed tickets before you land on UK soil - that'll save you buckets full of time. Oh! And, mind the darn pigeons hanging out by the McDonald's down the way from the Eye. Eww.
eta:
June 6. How fitting to use a UK magnet on this, the 64th anniversary of D-Day. No worries. I can do a D-day story next year for the 65th. Meetcha back here, then.