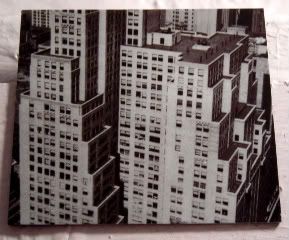 Magnet #458 - Walker Evans Step Backs
The Met put on this
Walker Evans postcard collection
exhibit that ended yesterday. Yep. A whole exhibit on postcards. Well, the man did leave like his entire 9,000 postcard collection to the Met, as part of the Walker Evans Archive, and they've probably just been sitting around in a box somewhere.
This magnet from the Met is not one of Evans' postcards, but it is one of his photos. It's called Step-Backs, which shows how the building takes a step back from the base - allowing more light to the streets below.
Anyway, this exhibit was fantastic. Yes, I know I tend to love all the exhibits, but then again, I tend to go to exhibits I know I'll love, so there. You would think that there wouldn't be anything remotely interesting in postcards - and these days, there probably isn't, what with them being 5 for a buck on every street corner.
But, Evans collected postcards at a specific time in our history - and through his collection of train stations, state capitals, factories, main streets and curiosities, etc., you can literally see America grow - through the power of the automobile, the ease of travel, and as a society.
While the collection was really trying to draw a few parallels between Evans' art and the postcards, it really gave me a ton of information on the history of postcards and collecting them.
Apparently, postcards used to be considered
slopmail
, even if they were first class postage...and it wasn't for a while that the U.S. Postal Service finally relented on their rules about letting people write their messages on the backs of the cards (rather than having them write over the pictures on the front, and having only the address on the back).
Also, there used to be a company called the Detroit Publishing Company that used to have a fleet of photographers that they sent out to take pictures to be made into postcards. You could tell
Detroits
were a higher quality than the rest - they were like the Hallmark of their time.
And, for the love of a
postcard
, some of the companies used to take the pictures in black and white, but send them to Germany to have them color it in and then reproduce it on their color lithographs, and then send them back stateside.
I could go on and on about these postcards, but I'll spare
ya'll
. But,
c'mon
. You've now learned a few things you didn't know before 20 seconds ago. Walker Evans would probably be saddened to see the state of
postcarding
(or
deliotology
- which I
think
is what they call the study/collecting of postcards), but he probably would have loved the
Met's
exhibit, just as much as I did.
Of course, now I'm wondering two things. 1) What they call the study/collecting of magnets (I'm going with
magnetology
) and 2) Debating which lucky, lucky museum will inherit my magnet collection.
Hahhaahah
.
Hope all of you enjoyed your Memorial Day weekend, and said thanks to someone in military uniform today. Oddly, after a weekend of spying servicemen and women around town, today, I didn't get to see any.
Soooo
, thanks very much!