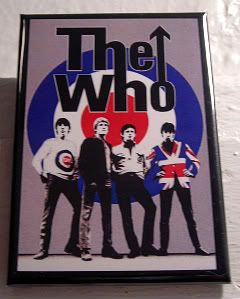 Magnet #461 - The Who
...I lived it."
When people ask me what kind of music I like, I tend to wiggle my way out of answering the question.
I won't lie - my music taste is deplorable.
I mean, really. I grew up on Duran Duran and 70s, 80s and 90s Top 40. (By the way, Duran Duran,
as you should know by now
, I will go to the mat for, so they're
totally
not
included in that
deplorability
.)
That said, I think we can agree that classic rock is definitely beyond my ken.
Which is why when I went to the Paley Center last year to watch this Who
docu
, I wasn't really expecting to be overwhelmed. Nor was I really expecting Roger
Daltrey
to be there for the Q&A, either.
But, what I forgot is that I tend to love band documentaries - all two that I've ever watched.
Duran Duran's

Sing Blue Silver
and
Metallica's
Some Kind of Monster
.
But,
Amazing Journey
was fantastic. I learned so much about the Who - their beginnings, their music, their successes and failures, and in general, who these guys were. I seriously wanted to run out and get the DVD, without having listened to a full Who album ever. In fact, now I'm wondering how I didn't end up with The Who's greatest hits somewhere.
Of course, on the way home, I had to call my mom to tell her who I just saw. And this is what several someones overheard on the corner of 52
nd
and 7
th
Avenue.
Me: Mom! I just saw Roger
Daltrey
!
Mom: Who?
Me: Yes. You know, Roger
Daltrey
!!!
Mom: Isn't he that guy from that band you liked? Wham?
Me: No! That's George Michael!!! Roger!
Daltrey
! You know, from The Who!
Mom:
Ohhhhhhh
. I don't know them.