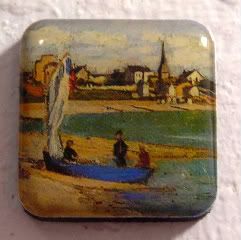 Magnet #676 - Monet's Regatta at

Sainte

-

Adresse
This is part of the Monet magnet set I picked up from the Met - it's an inset of this
painting
from the
Met's
site.
Monet spent a lot of time at
Sainte
-
Adresse
on the coast of France, where his Parisian parents moved. He painted
Regatta at

Sainte

-

Adresse
(at the Met) supposedly as a companion piece to the
Beach at

Sainte

-

Adresse
(at the Art Institute of Chicago), both in 1867.
There's some speculation that he painted it to show the class differences - the posh bathers versus the local fishermen.
I just like it because regattas always remind me of when stupid Dawson Leery entered
Capeside's
Annual Spring Regatta to win the heart of Joey Potter, even though everyone knows that the Joey belonged with Pacey J Witter.
What? I have a million Monet magnets...plus, my sister totally got me the complete series
boxset
of
Dawson's Creek.


Now, if only I had time to do a proper marathon!