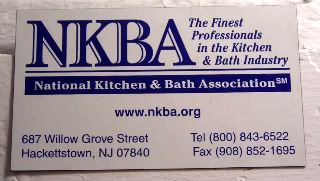 Magnet #678 - National Kitchen & Bath Association
You know how sometimes I have like the coolest magnets and the fun write-ups? This is not that day.
Every so often, I like to use a real fridge magnet just to spice things up. A former client of mine gave me this
NKBA
fridge magnet - mainly because we were working on a line of kitchen and laundry appliances together back in the day.
You'd be surprised how much effort goes into the selling of product lines to you guys, the consumer, but also the amount of work that an appliance manufacturer has to do just to get their products sold in to like a Sears or Best Buy or Lowe's. It's hard, man. They have to have all their product specs down pat, all their collateral pristine, and know their sales pitches cold.
But, to get all that together, sometimes, you have to do a little recon in the stores - that's running around a P.C. Richards or a Lowe's or Home Depot, seeing who has the most appliances on the floor, the positioning within the store, and even the point of sale materials they have for the consumers.
It was totally fun, getting to visit as many of these stores as I could, pretending I was in the market for some new refrigerators or washer/dryers, and quizzing the sales folks on the differences between the manufacturers, picking up competitive sales materials...and when I could, taking pictures of the store.
Well, that is until I got run out of a New Jersey Sears for taking pictures. Whoops.