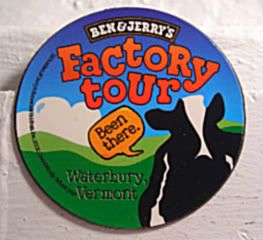 Magnet #653 - Ben & Jerry's Factory Tour
Ok
. I've mentioned how much I love ice cream - a visit to the Ben & Jerry's Factory Tour is pretty fun. Not only do I love behind the scenes stuff, but I love seeing the factory in action.
But, I think I've now gone twice to B&J's in Vermont, and not seen the factory actually in action - just get to see the empty floors and empty machines. Nothing sadder than a factory at rest. But, I will say that it's the place I first discovered one of my favorite Ben & Jerry's flavors - Dublin Mudslide.
Mmmmmm
.
I had to do an ice cream post, given that I've been trying to recreate all the
gelato
I had in Italy. They say you should have it twice a day - while I didn't live up to that, I did manage to have a lot of it.
My favorite gelato in any store, in any town?
Nicciola
- hazelnut. Best recreated by Ciao Bella's
Nicciola
sorbet. So.
Freakin
'. Good.
Even when it's 38 degrees outside.